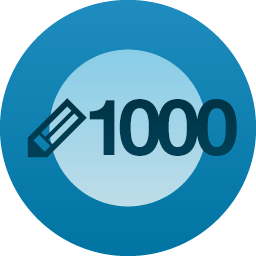 As a RPG gamer, I always think that the first few levels are intentionally easy, but having past the first ten level ups, things get more difficult.
The One-thousandth blog post!
To celebrate it, I've written a review for J.R.R. Tolkien's The Fall of Gondolin. I also invested a couple of hours producing two new overview posts for all reviews on this blog:
That was a huge mess of work, because WordPress doesn't have a good system for meta data, like "publication date" or "author last name". Luckily, most of these relevant information were in my review titles, and I only had to develop an algorithm in Excel to carve out the fields after having it exported. I learned a lot that way!
1000 blog posts is a huge number. Let me elaborate it:
Nearly all of the posts – 937 – are reviews. I don't post much fluff (like this fun level-up posts), it is really dedicated to reviews.
686 story reviews (short stories, noveletts, and novellas)
159 novel reviews
72 anthologies and collection reviews
20 non-fiction book reviews
I began this blog in 2014 after realizing that GoodReads doesn't handle short story reviews nicely. The first problem was that reviews are restricted in size. That's usually no problem, but for larger collections where I wanted to write one review for every story, it became a burden. The next issue was that GoodReads policy is to delete entries which aren't books. Moderators often enough deleted short story reviews together with their entry. That's when I decided to search for a safe spot for short story reviews.
Nearly at the same time, I started requesting ARCs from NetGalley, and this blog came in handy for writing reviews also for novels.
Up to this time, GoodReads was my main site for writing novel reviews.
Then, a reviewing slump hit me between 2017 and the end of 2019.
Since 2020, this blog is my main site for reviews.