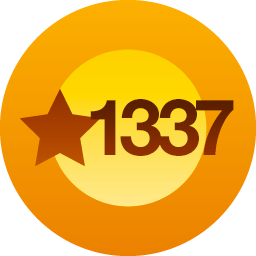 As a RPG gamer, I always think that the first few levels are intentionally easy, but having past the first ten level ups, things get more difficult.
Level 1: set up the blog
Level 2: Publishing the first review
Level 3: Getting the first views from readers through search engines
Level 4: Publish 5 reviews
Level 5: Publish 20 reviews
Level 6: every day a hit – constant traffic
Level 7: first follower
Level 8: Publish 50 reviews
Level 9: 5 views daily
Level 10: Publish a guest review
Level 11: Schedule a review
Level 12: Attract a pingback
Level 13: 50 ARC Reviews
Level 14: 500 Likes
Level 15: 600 Posts
Level 16: 1000 Likes
Level 17: One is fine, two is better
Level 18: Be elite
My last Level up! One is fine, two is better has been just a week ago, so consider me on a roll. 
This level up is a nice fun tag from WordPress: With 1337 likes, one gets a nice award. What does it mean? It's one for nerds, as 1337 is leetspeak and translates to "elite". That can only mean that I'm noob no more. 
Beware of arrogance, stay humble, I tell myself. And in fact, this achievements is only because of you, dear readers, because you liked my blogs so often. I've talked a couple of times about this form of acknowledgement, and let this fun award stand for itself.