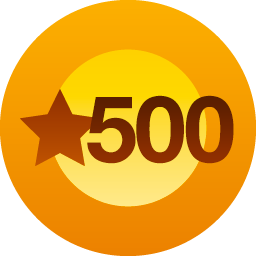 Achievement unlocked: 500 Likes!
As a RPG gamer, I always think that the first few levels are intentionally easy
Level 1: set up the blog
Level 2: Publishing the first review
Level 3: Getting the first views from readers through search engines
Level 4: Publish 5 reviews
Level 5: Publish 20 reviews
Level 6: every day a hit – constant traffic
Level 7: first follower
Level 8: Publish 50 reviews
Level 9: 5 views daily
Level 10: Publish a guest review
Level 11: Schedule a review
Level 12: Attract a pingback
Level 13: 50 ARC Reviews
Level 14: 500 Likes
My last Level up! 50 Netgalleys was just 6 days ago. But when I'm in grinding mood, nothing can stop me hitting that next sweet ding.
Likes are the currency of social networks. They come in different forms like thumbs up, kharma, stars, but are ever sought after. Some go crazy for them, turning into the social network form of zombies, the so-called "like whores", giving body and soul for that sweet notifications, luring their followers into like traps.
My first like on this blog arrived this year. I didn't network before and found that it's like love: you get back the more you spread it out. Sometimes, it feels more like a "yeah, I've seen your post" up to a "wow, that was great". Every like coming from your heart, folks, is appreciated, and feels good.
Thank you for your awareness, for your attention, for your likes 🙂